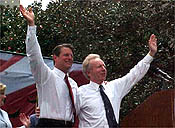 Al Gore
Democratic Party Cantidate
Campaign Finance Reform
Health Care
Archives Home
Home
Ban Soft Money
Enact New Lobbying Reform
With this reform, lobbyists would have to disclose infromation about their activities.
Strenghten the Federal Elections Commission
Improve Disclosure of Issue Advocacy Advertisements
This would require that all issue advertisements by special interest groups broadcast within 60 days of an election disclose their sources of funding.
Provide Candidates Targeted in Issue Advertiesments with Equal Air Time
Support Television Time for Democracy
This is where a television stations agree to a voluntary standard of free broadcast time in which candidate-centered discourse in the thirty nights preceding an election will take place.
Back to Top
Home
Expanding Access to Health Care Coverage

Expand eligibility under the Children's Health Insurance Program (CHIP) and hold states accountable for signing up eligible children for health insurance.
Expand health care coverage to working families by extending CHIP to parents.
Provide affordable health care options for Americans ages 55 to 65 with a 25% tax credit for the premuim costs of each employee.
Stringhten health care delivery systems for the uninsured.

Strenghthening Medicare

Price Competition Among Managed Plans

Imporving Medicare with a Prescription Drud Benefit
Protecting Patients

Will make sure that medical records are kept private

Making Long-Term Care More Affordable
Support Research and Prevention to Fight Diseases
Improving Enrollment in Medicaid
Protecting Women's Right to Choose
Back to Top
Home
For More Information about Al Gore oppinions on these and other issues, go to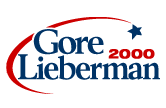 [Home]